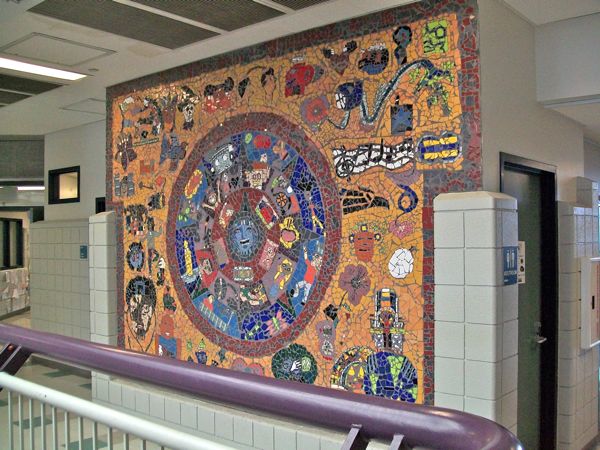 In October 2012 I was approached by Alissa Tolley of Latinas Adelante, a program of the University of Utah created to foster independence and excellence in teenage parents by developing lifelong skills. I was asked to help develop a project that would be valuable for the youth of Latinas. Collaborating with Tolley, Horizonte School administration and Sophia Esterman, Horizonte's art teacher, the idea was developed of making a modernized version of the Aztec calendar as a mosaic tile mural.
Beginning in November 2012, Esterman and I began instructing students on the rich history and art of the Aztec and Mayan peoples, including the mosaic art that has existed in Latin America in various different forms throughout the past 1700 years. The students learned about the Mayan codex, and how the Mayan system of writing used pictographs, or symbols, to represent the important aspects of their culture.
The students were encouraged to develop symbols of their own based on their own lives and aspirations to fit into their modern version of the Aztec Calendar. The Latinas Adelante group, comprised of mostly teenage mothers, worked with me to create sketches about character traits they thought were important for success in life, and the steps they needed to take to gain those character traits. Esterman worked with her students, both teenagers and adults, to develop sketches about what influence the students wanted to have on their community and world.
Esterman and I then took the sketches and collaged the mosaic design. The design was enlarged to the size of the wall and broken into sections that students could work on as individuals or small groups. The 80 or so students spent the next few weeks during class time wearing safety goggles, breaking porcelain and glass tiles and gluing onto fiberglass mesh to recreate the symbols as mosaic art. The students then helped me to install the mosaic tiles onto the wall.
The Horizonte students were dedicated to excellence in their work, and it shows.