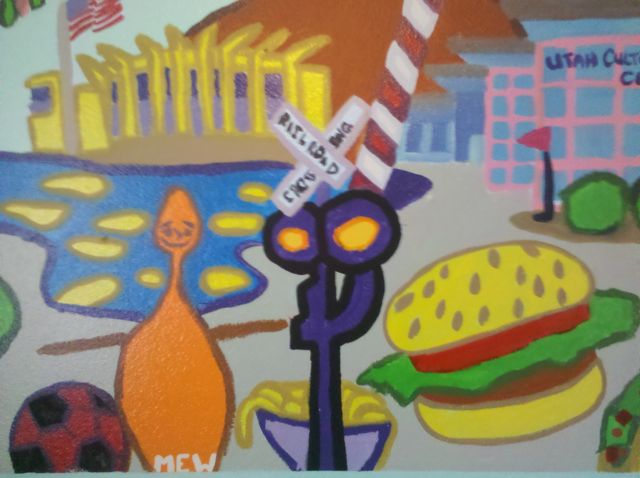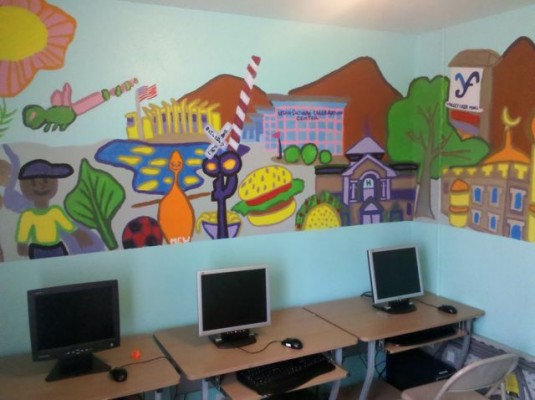 In July to August 2011 I led a month-long project with a diverse group of about 15 teenagers from the Housing Authority of the County of Salt Lake's teen program in order to create a mural about West Valley City.
The result is a bright, bold, colorful mural showing cultural landmarks of the city such as Hale Theater, the Maverik Center, the Kadheema Islamic Center, and the Utah Cultural Celebration Center. Surrounding these landmarks are foods and people representing the culturally diverse residents of West Valley City and plants showing the rich natural habitats in the city.
The Leadership and Resiliency Program of the Housing Authority is an after-school program for teens ages 12-18 whose families live in low-income Public Housing Communities. By participating in service learning the teens are able to become active members of the community and gain empowerment by helping others.*
Since the Program transports teens from all over the the county, most of the teens were unfamiliar with West Valley City. In order to figure out what makes the city tick, the youth first read through the city's website, and paid special attention to details that defined the city's culture and heritage. The youth spent a day at the Jordan River creating nature sketches. Finally, in order to learn the residents' perceptions of the city the youth received permission from Valley Fair Mall to interview visitors about what they thought about the city.
Once all this research was complete, the youth and I created sketches to reflect what they had learned, visiting various significant locations throughout the city. The resulting sketches were cut out and collaged into the design which was then projected onto the wall of the community space at the Academy Park housing complex.  The youth then met the next two weeks painting the mural with me.
*source: http://www.hacsl.org/services/prevention-programs-youth