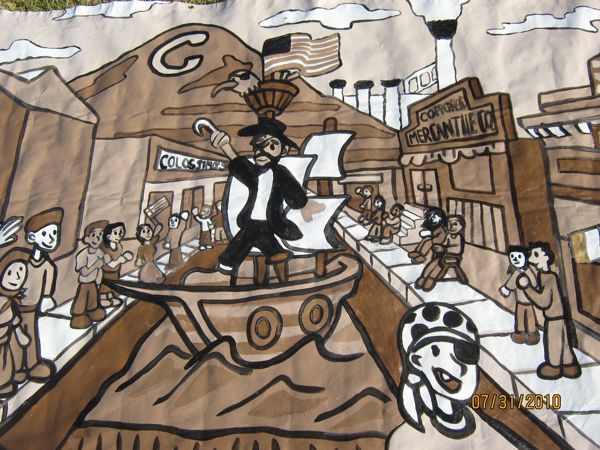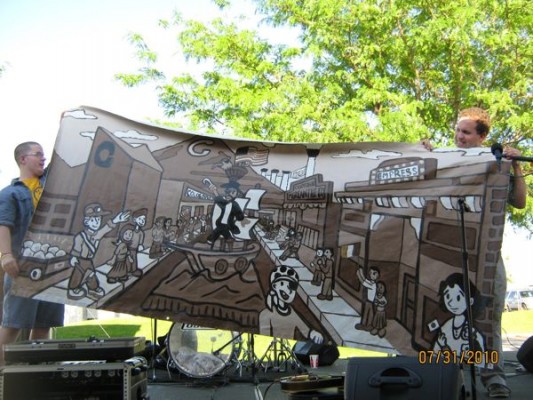 Unveiling with Alex Penfold, Magna Youth Town Council president (date stamp incorrect)
From January to June of 2011 I met with the Magna Youth Council to brainstorm what makes Magna a unique, exciting town. The youth opted to turn the sketching and design work to me, so I took their ideas and came up with a design which was modified to their specifications and then submitted to the Magna Arts Council for funding.
The mural explores the rich cultural heritage of the township. Parade onlookers in the mural hold flags representing the nationalities of the original Japanese, Greek, and Italian settlers of Magna. The lead float in the "parade" in the mural is a pirate ship carrying a swashbuckling captain, representing the Cyprus High School mascot.
I met with the youth in July 2011 to paint the mural. The Zion's Bank of Magna donated use of their basement as a project working space, and the youth spent a Saturday with paint and pizza attacking the four-by-nine foot canvas.
The mural was unveiled at the beginning of Magna's "Night Out Against Crime" on August 6, 2011. The mural will then spent the next year touring various locations throughout Magna as a tribute to the heritage and culture of the township. The project was featured in the Oquirrh Times online newspaper.