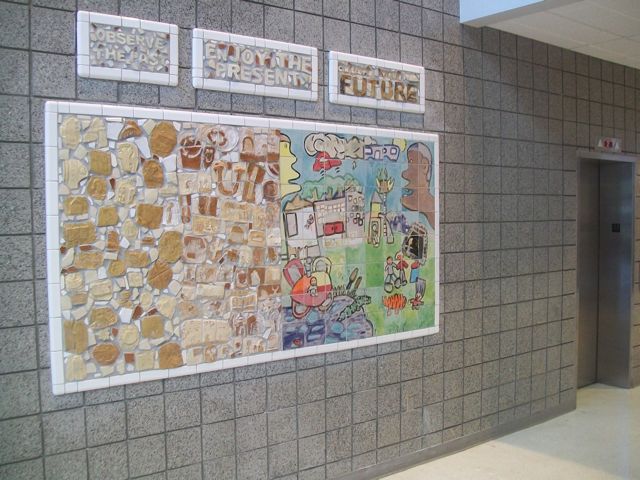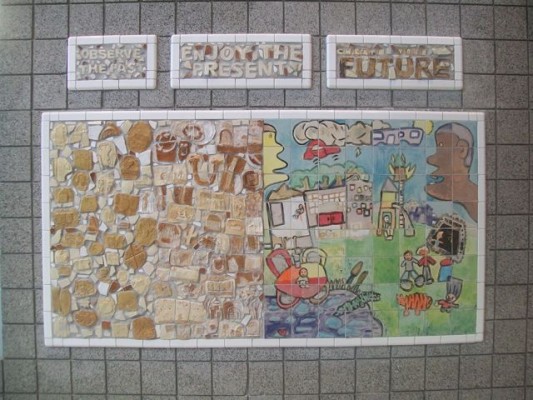 I met with students of Riley Elementary for 11 weeks from early January to late March to brainstorm, sketch, and create the tiles for the mural. Included in the project were youth in the after-school program as well as youth in the "Colors of Success" program.
-While brainstorming the past, students defined the culture of their parents' upbringing in terms of food, clothing, technology, nature, language, beliefs, etc.
-In brainstorming the presents, students' ideas for changing the world included recycling, working, and helping out the homeless (with detailed discussion about both short-term and long-term solutions for eliminating poverty).
-Finally, while brainstorming the future, students listed all the needs that people have, and individually came up with solutions of how people could meet those needs in the future (needs included food, water, nature, space, family, light, life, education, peace, etc).
After brainstorming, the students drew sketches using visual symbols to represent the different ideas that they had brainstormed for all three sections of the mural. For the past, students each handcrafted tiles as miniature relief sculptures of their sketches, which were later clear-coated. For the present, students were allowed to work in pairs to sketch their ideas and handcraft the resulting tiles. For the future, students all created sketches. I then collaged the ideas into a composition representing the ideal future of the Glendale neighborhood. Once the tiles were completed, they were handed over the school district's tile specialists for installation.
Besides the ceramic mosaic mural, I also hosted two family art nights at the school to which parents and siblings of all Riley Elementary School students were invited. Participants at these events (over 100 attended each event) created handcrafted ceramic bowls and puppets.
This project was funded by an Arts Learning Grant from the Salt Lake City Arts Council with additional support by the Salt Lake City School District Fine Arts Department, Salt Lake Education Foundation, and Riley Elementary. Special credit to Bobbie Kirby, principal of Riley Elementary for helping to develop the mural's concept, Lynn Green for assistance directing the youth during the project, and Rosanne Henderson for assistance and support through all stages of the project.
Thanks to the Salt Lake Tribune for their excellent coverage of the unveiling event.